Christmas is a time for trying traditional sweets like polvorones (an almond shortbread) candied fruits (peaches, apricots and apples) or finally delicious nougat bars named turrones. Today we talk about the nougat.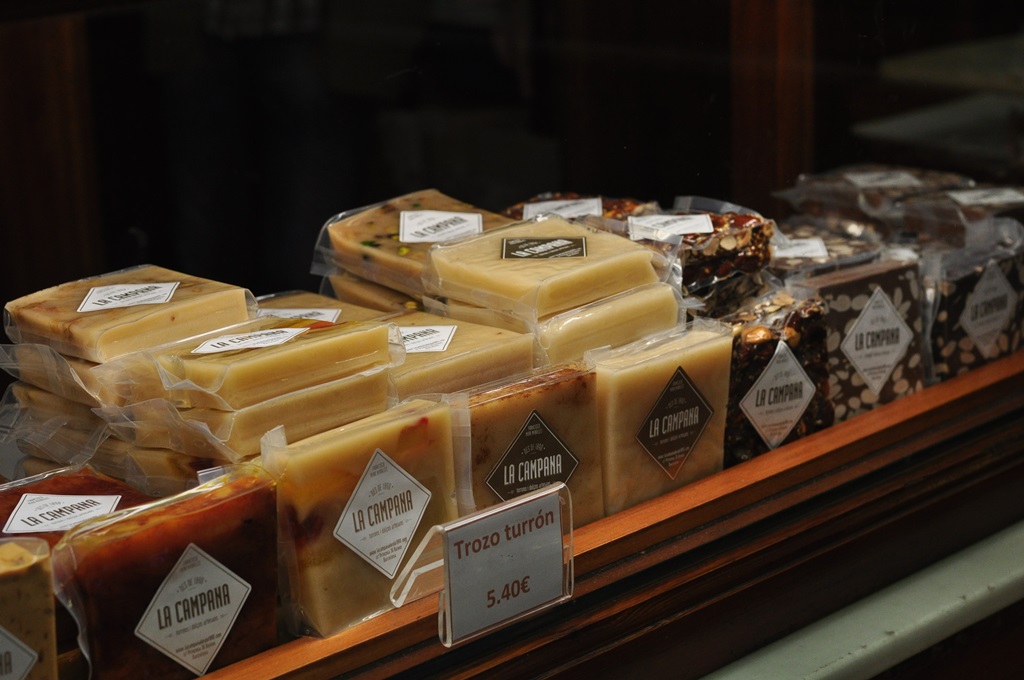 Tradition
Spain is recognized as a second producer of almonds worldwide and as a country with one of the highest rates of its' consumption as well. Since 16th century Spain had been producing many vareties of confectionery based on almonds: sugared almonds, marzipan, almond cakes, shortbreads and nougat bars (turrones).
The nougat stems from south of Spain, where almonds and honey (main ingredients of turrones) had beed brought and rooted by Arabic settlers. An interesting fact is that name turrón may derive from a Latin word torrere (to toast) or an Arabic turun (a dessert).
Types of turrones
We can distinguish two main types of turrones: Turrón de Jijona and Turrón de Alicante.
Turrones en La Campana
Alicante, Jijona and Yema Tostada
Turrón de Alicante known as turrón duro (hard nougat) is crunchy and contains big pieces of almonds. The ingrediens are: roasted almonds, sugar, honey and egg whites. It is crafted in Alicante.
Turrón de Jijona with an another name "turrón blado" (soft nougat) is on the other hand smooth and delicate. The ingrediends are: roasted almonds, sugar and honey. Originally produced in a province of Alicance called Jijona.
Yema Tostada is nougat which cantains almonds, sugar, honey and caramelized egg yolks. It's very soft and worthy a try. Yema tostada means of course caramelized egg yolks.
Thanks to an expantion of nougat, producers started to add new flavors. Right now you can find nougat bars with chocolate, marzipan or dried fruits. Sometimes also different types of nuts can be added.
Spanish almonds
Spain with a Mediterranean diet produces several types of almonds – Marcona, Largueta and Planet. Marcona almonds are regarded to be the best quality fruits. In Barcelona you can find a place – La Campana – where since 1890 the family produces the best turrones in town. La Campana uses only Marcona almonds.
Traditional, full of flavor and natural. When it comes to the season of Christmas,  you can find turrones in every Spanish house. Don't hesitate and come to Barcelona to try turrones with us!
¡Hasta luego!