When exploring food in Barcelona I often focus on paella, my favourite dish. My pleasure is double, while I enjoy eating it, I am also curious to try paellas prepared by different chefs as each paella is unique, as well as to find the best paella in Barcelona.
Being from this city, I usually go to have paella with friends or family on Sundays. I am not, in any aspects of my life, a traditional person but as far as gastronomy is concerned, I have the greatest respect for tradition.
L'ESTUPENDU RESTAURANT
While searching for that amazing paella in Barcelona and surroundings I have been several times to L'Estupendu, a restaurant where you can eat a delicious paella by the beach while enjoying stunning sea views in a local atmosphere, which, as we know, is difficult in Barcelona.
L'Estupendu is located on Badalona beach, some 10 km away from Barcelona. This should not prevent you from missing this amazing experience. Travelling from Barcelona city centre only takes 30 minutes. Badalona train station is by the seaside and on your way to the restaurant you will be able to see some colourful old fishing boats aground on this part of the beach.
It will take you 16 minutes to get there by train and then a 10-minute walk on the beach to get to this charming restaurant.
You will find address and directions at the bottom of the page.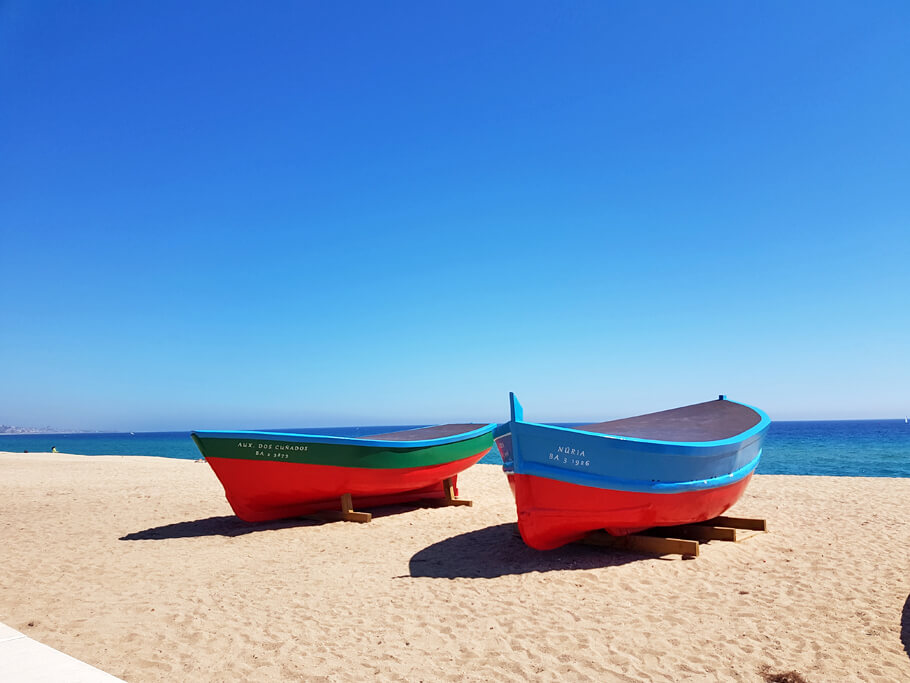 A RESTAURANT ON THE BEACH NEAR BARCELONA
L'Estupendu is not a small restaurant, but no worries it is divided into four welcoming different lovely areas.
The terrace with views of the sea is magnificent. Eating here is taking a trip down memory lane and living again one of those Sundays of our youth with good paella, good wine, the beach, the sea breeze… except for digging our feet in the sand, it feels like being on one those restaurant terraces in the old Barceloneta, before 1992.
AN AMAZING PAELLA IN BARCELONA
Searching for the authentic paella of our dreams ,we found different kinds of rice at L'Estupendu : Arroz de la reina (Queen rice), rice with cod fish and vegetables, Arroz caldoso , (literally 'brothy rice'), rice with cuttlefish and mantis shrimps and Arroz marinero,, seafood rice.
On this occasion we have ordered the Fish paella, indeed seafood rice can never fail.
We asked for the mussels, shrimps and other shellfish to be peeled, here they call it 'del Fadrí'. In many restaurants, this kind of paella is now called 'del senyoret' (the gentleman's rice). Some people enjoy digging in and eating with their fingers that's how finger-licking good this paella is! I personally find it awesome but I have grown lazy…
The paella was delicious, the rice at its best, the colour was golden brown, which is something, I especially appreciate.
The traditional paella (Valencian paella) is traditionally made with meat, fish and vegetables. However, there are endless variations in the way to prepare the rice, there is indeed a paella for each master chef, and nowadays the fish paella has become very popular. In a fish paella you will always have mussels, prawns and cuttlefish or squid, sometimes scampi and clams. If you want a traditional Valencian paella, chicken and/or rabbit will be added. As for vegetables, green beans and garrofons (big white beans) will be added to the sofrito (tomatoes, onions and peppers cooked in olive oil). Sometimes during the artichoke season (from autumn to spring), this delicious vegetable may also be added.
As starters we chose anchovies with pan con tomate (Catalan bread and tomato with olive oil) and Spanish ham croquettes.
For dessert, we ordered chocolate truffles with olive oil and salt. I personally prefer the ganache version of this desert, as I find that the different flavours blend more easily. With well-chilled delicious cava , this dessert tastes like heaven.
TERRACES WHERE TO EAT PAELLA IN BARCELONA
L'Estupendu is divided in several areas, which will allow you to choose (if you book in advance) the context that most appeals to you to enjoy a delicious meal : the terrace with sea views, an indoor dining area next to the terrace (much recommended on the hottest summer days as there is air conditioning), an indoor terrace with plants, and finally a cosy lounge
We had coffee on this terrace just to enjoy the beauty of the space, the plants and the sea breeze in the most authentic Mediterranean style: simple and warm. 
BEACHES NEAR BARCELONA
Badalona beach is a long wide sandy beach less crowded than the beach in Barcelona. Now if what you look for is to have a great swim, I would recommend going a bit further up the coast to Caldetas.
When you arrive in Badalona by the suburban train (rodalies) walk to the nearest beach, the stroll to the restaurant will be entertaining, you will see locals taking a walk or sunbathing, fishing boats aground on the beach… When you reach the old wooden beach huts (which people used for safe storing of their belongings), you will find that the area has been converted into the restaurant.
Next to it there is the old factory of Anis del Mono, and more importantly the Pont del Petroli which you must visit! The view from the bridge encompasses most of the Maresme coast as far as Barcelona.
TIPS AND HOW TO GET THERE
If you want to go there at the week-end, book in advance, the sooner the better.
If you go by public transport, we recommend taking the suburban train (rodalies) from Arc de Triomf metro/train station, it is a small station and straightforward as there is only one suburban train platform. Trains run every 15 min approx. The ride to Badalona takes 16 min.
http://www.renfe.com/viajeros/cercanias/barcelona/index.html
Carrer d'Eduard Maristany, 75
08912 Badalona
Barcelona
Phone : 00 34 933 84 83 64
Gastronomy remains one of the most prominent features of Barcelona.
If you would rather go on a food tour with a local guide, have a look at the food tours we provide by clicking here