Warning: preg_match(): Compilation failed: invalid range in character class at offset 4 in /usr/home/foodloverscompany.com/web/wp-content/plugins/pinterest-pin-it-button/includes/simple_html_dom.php on line 1364 Warning: preg_match(): Compilation failed: invalid range in character class at offset 4 in /usr/home/foodloverscompany.com/web/wp-content/plugins/pinterest-pin-it-button/includes/simple_html_dom.php on line 1364 Warning: preg_match(): Compilation failed: invalid range in character class at offset 4 in /usr/home/foodloverscompany.com/web/wp-content/plugins/pinterest-pin-it-button/includes/simple_html_dom.php on line 1364 Warning: preg_match(): Compilation failed: invalid range in character class at offset 4 in /usr/home/foodloverscompany.com/web/wp-content/plugins/pinterest-pin-it-button/includes/simple_html_dom.php on line 1364 Warning: preg_match(): Compilation failed: invalid range in character class at offset 4 in /usr/home/foodloverscompany.com/web/wp-content/plugins/pinterest-pin-it-button/includes/simple_html_dom.php on line 1364 Warning: preg_match(): Compilation failed: invalid range in character class at offset 4 in /usr/home/foodloverscompany.com/web/wp-content/plugins/pinterest-pin-it-button/includes/simple_html_dom.php on line 1364 Warning: preg_match(): Compilation failed: invalid range in character class at offset 4 in /usr/home/foodloverscompany.com/web/wp-content/plugins/pinterest-pin-it-button/includes/simple_html_dom.php on line 1364 Warning: preg_match(): Compilation failed: invalid range in character class at offset 4 in /usr/home/foodloverscompany.com/web/wp-content/plugins/pinterest-pin-it-button/includes/simple_html_dom.php on line 1364 Warning: preg_match(): Compilation failed: invalid range in character class at offset 4 in /usr/home/foodloverscompany.com/web/wp-content/plugins/pinterest-pin-it-button/includes/simple_html_dom.php on line 1364 Warning: preg_match(): Compilation failed: invalid range in character class at offset 4 in /usr/home/foodloverscompany.com/web/wp-content/plugins/pinterest-pin-it-button/includes/simple_html_dom.php on line 1364 Warning: preg_match(): Compilation failed: invalid range in character class at offset 4 in /usr/home/foodloverscompany.com/web/wp-content/plugins/pinterest-pin-it-button/includes/simple_html_dom.php on line 1364 Warning: preg_match(): Compilation failed: invalid range in character class at offset 4 in /usr/home/foodloverscompany.com/web/wp-content/plugins/pinterest-pin-it-button/includes/simple_html_dom.php on line 1364 Warning: preg_match_all(): Compilation failed: invalid range in character class at offset 4 in /usr/home/foodloverscompany.com/web/wp-content/plugins/pinterest-pin-it-button/includes/simple_html_dom.php on line 684 Warning: Invalid argument supplied for foreach() in /usr/home/foodloverscompany.com/web/wp-content/plugins/pinterest-pin-it-button/includes/simple_html_dom.php on line 691 Warning: preg_match_all(): Compilation failed: invalid range in character class at offset 4 in /usr/home/foodloverscompany.com/web/wp-content/plugins/pinterest-pin-it-button/includes/simple_html_dom.php on line 684 Warning: Invalid argument supplied for foreach() in /usr/home/foodloverscompany.com/web/wp-content/plugins/pinterest-pin-it-button/includes/simple_html_dom.php on line 691 Warning: preg_match(): Compilation failed: invalid range in character class at offset 4 in /usr/home/foodloverscompany.com/web/wp-content/plugins/pinterest-pin-it-button/includes/simple_html_dom.php on line 1364 Warning: preg_match(): Compilation failed: invalid range in character class at offset 4 in /usr/home/foodloverscompany.com/web/wp-content/plugins/pinterest-pin-it-button/includes/simple_html_dom.php on line 1364 Warning: preg_match(): Compilation failed: invalid range in character class at offset 4 in /usr/home/foodloverscompany.com/web/wp-content/plugins/pinterest-pin-it-button/includes/simple_html_dom.php on line 1364 Warning: preg_match(): Compilation failed: invalid range in character class at offset 4 in /usr/home/foodloverscompany.com/web/wp-content/plugins/pinterest-pin-it-button/includes/simple_html_dom.php on line 1364 Warning: preg_match(): Compilation failed: invalid range in character class at offset 4 in /usr/home/foodloverscompany.com/web/wp-content/plugins/pinterest-pin-it-button/includes/simple_html_dom.php on line 1364 Warning: preg_match(): Compilation failed: invalid range in character class at offset 4 in /usr/home/foodloverscompany.com/web/wp-content/plugins/pinterest-pin-it-button/includes/simple_html_dom.php on line 1364 Warning: preg_match(): Compilation failed: invalid range in character class at offset 4 in /usr/home/foodloverscompany.com/web/wp-content/plugins/pinterest-pin-it-button/includes/simple_html_dom.php on line 1364 Warning: preg_match(): Compilation failed: invalid range in character class at offset 4 in /usr/home/foodloverscompany.com/web/wp-content/plugins/pinterest-pin-it-button/includes/simple_html_dom.php on line 1364 Warning: preg_match(): Compilation failed: invalid range in character class at offset 4 in /usr/home/foodloverscompany.com/web/wp-content/plugins/pinterest-pin-it-button/includes/simple_html_dom.php on line 1364 Warning: preg_match(): Compilation failed: invalid range in character class at offset 4 in /usr/home/foodloverscompany.com/web/wp-content/plugins/pinterest-pin-it-button/includes/simple_html_dom.php on line 1364 Warning: preg_match(): Compilation failed: invalid range in character class at offset 4 in /usr/home/foodloverscompany.com/web/wp-content/plugins/pinterest-pin-it-button/includes/simple_html_dom.php on line 1364 Warning: preg_match(): Compilation failed: invalid range in character class at offset 4 in /usr/home/foodloverscompany.com/web/wp-content/plugins/pinterest-pin-it-button/includes/simple_html_dom.php on line 1364 Warning: preg_match_all(): Compilation failed: invalid range in character class at offset 4 in /usr/home/foodloverscompany.com/web/wp-content/plugins/pinterest-pin-it-button/includes/simple_html_dom.php on line 684 Warning: Invalid argument supplied for foreach() in /usr/home/foodloverscompany.com/web/wp-content/plugins/pinterest-pin-it-button/includes/simple_html_dom.php on line 691 Warning: preg_match_all(): Compilation failed: invalid range in character class at offset 4 in /usr/home/foodloverscompany.com/web/wp-content/plugins/pinterest-pin-it-button/includes/simple_html_dom.php on line 684 Warning: Invalid argument supplied for foreach() in /usr/home/foodloverscompany.com/web/wp-content/plugins/pinterest-pin-it-button/includes/simple_html_dom.php on line 691
Nuria's experience at Espai Kru
I have a friend with whom I maintain an almost virtual relationship, as in fact most of the relationships have become today, simply because our lives are too full of activities, work and commitments.
But from time to time we move to another dimension: reality. Our meeting up is always also a gastronomic experience.
As gastronomy is my passion and finally an area I manage professionally I always choose the restaurant (thank you Antonio for trusting me) and, on this occasion, it was the Espai Kru.
First and foremost the fact that this restaurant is linked (not only physically) to the seafood restaurant Rias de Galicia, puts you in a very interesting conceptual and emotional context. On the one hand I rejoiced in the almost childlike enthusiasm that I always experience when I hear "seafood", on the other hand the seafood restaurants work with a product to which a proposal of contemporary elaboration adds an indisputable interest.
Since my first impression was visual, and focused on the large wooden table located in front of the kitchen, I felt that it was the heart of the space. How wonderful it must be to meet here if you are part of a large group. A very appealing possibility indeed.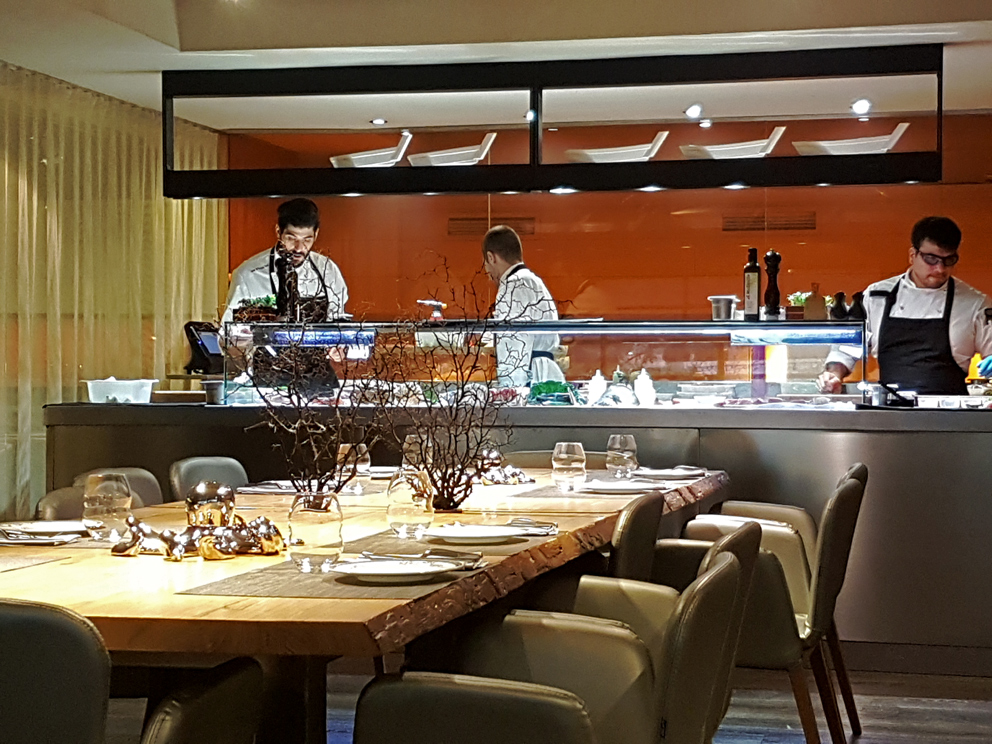 It seems as if the design of the space started from there.
Elaboration using raw ingredients
We then sat at a nearby table, not as charming but still nice enough. We were served by a waitress named Lorena, such a lovely person. I wish all the people waitressing in a restaurant were always like her.
Almost everything on the menu seems to be between classic but from many cultures. Classic dishes of seafood mixed with sashimi, and diverse proposals of fusion with other gastronomies such as the Peruvian. But the main feature is, as the name of the restaurant indicates, an elaboration where the fire is practically nonexistent.
For starters we ordered French oysters, some natural and others served with ponzu sauce and salmon roe. The latter is a very successful proposal that we enjoyed very much. We then had clams from Carril (a Galician coastal town) some of them with celery and lime sorbet. Then we tried the sashimi, tuna, mackerel, horse mackerel, bonito, hamachi and gilthead bream.
In addition I can never help ordering a steak tartare if it is on the menu, it does not matter where I am. So one (tenderloin) steak tartare) was brought to our table.
The desserts
We ended our meal with desserts; a very tasty Torrija with nougat ice cream. The Torrija was made from brioche. The ice cream was excellent. The chocolate dessert, shaped like a taco, was not that convincing, to be honest .

The best
And the most noteworthy thing, I have saved for the end, I only have words of total praise to the sashimi of scallop with its coral tartare… Good Lord! We ordered it again! Only for this dish this restaurant would be worth a visit, and a monument should be raised to the combination of its subtle flavours and the way it was presented. Its base is a Japanese cut called katsurabuki, made with cucumber. In the recipe we find yellow chili spiced tiger's milk, Rocoto tiger's milk, coriander sprouts and oil, and strawberries.
In conclusion, it was a wonderful! Espai Kru is indeed a great seafood restaurant in Barcelona!
Lorena told us about the cocktail bar they also run; however I haven't had the opportunity to try it yet. I hope I will be able to soon write about a cocktail made with tiger milk, cebiche juice and pisco. I can't wait!
Nuria Canal