Looking for the best foodie experience in Barcelona
My friends know me very well, so they invited me for my birthday to a brunch in Mandarin Oriental, the great and beautiful hotel in Barcelona. Thanks girls!
I knew the hotel and Banker's Bar, where I enjoyed good cocktails; but I had never visited BistrEau from Ángel León.
BistrEau is located in the heart of the hotel, it is a quiet place that invites you to have nice talks on a Sunday without rush.
Sunday's brunch offers a small menu and an entire buffet service. The brunch's menu has an ocean breeze that characterizes the proposals of Ángel León; known as the "Chef of the Sea". His restaurant Aponiente is placed on Puerto de Santa María, Cádiz, and it has two Michelin stars.
The brunch experience
The first thing they serve you is cava; a sparkling wine of status from Spain, most of which is produced in Catalonia. A very good one by the way! Therefore, we ordered something hearty to start, Benedict eggs with salmon, that will help us on this journey through the brunch.
As we were celebrating, and even though it was not included in the brunch's small menu, we ordered Russian caviar too.
A perfect way to finish with the starters is to order steamed cockles (berberechos), of an extraordinary quality and one of the dishes I enjoyed the most!
After the starters, we continued the brunch with beef tenderloin, with masked potatoes and cheese emulsion. Although this dish is predictable, it is always satisfying because of its quality and good-tasting.
Lastly, we ordered 3 of 4 types of rice they offer: Lobster rice (my favorite one), black rice with aioli and "Mar y Montaña" rice with pork rib, chicken and squid. Personally, I prefer the rice when it is more cooked, but I enjoyed these anyway. All three types are very tasty.
As you can see on the pictures, the rice dishes are brother than dry, which I like with Lobster rice and "Mar y Montaña" rice, but not with black rice as I prefer it dryer to have the taste focused on the rice itself.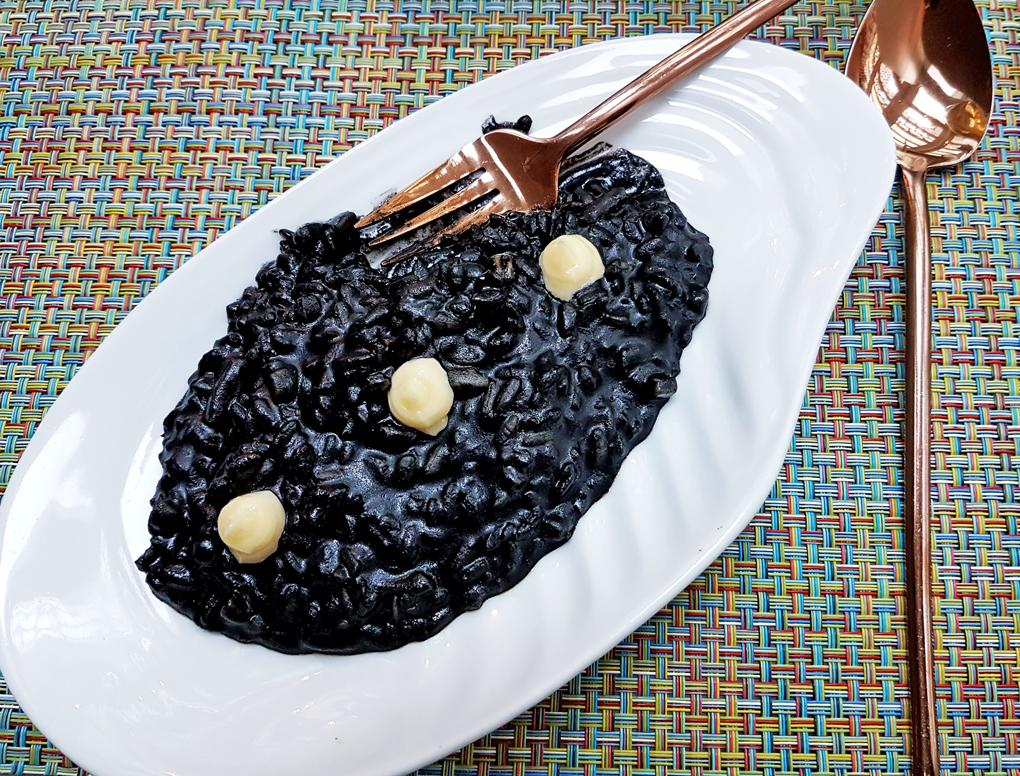 Desserts
For dessert, we decided to take the sweet's buffet. We were not seduced by any dessert of the menu, anyway it was not what we enjoyed the most. I think it is the weakest part of the brunch in Mandarin Oriental.
Apart from the sweet's buffet, there was a huge varied buffet with meat, salads, fish and seafood, which looked very tempting. But, honestly, with the menu dishes that were cooked on that same moment, we were more than satisfied.
The service
Good service is key to have a good gastronomic experience. They perfectly introduced the experience and went through it with us. It is very remarkable the professionality of all the staff, taking care of all the details and being very attentive.
Thanks for this good job!
The interior design
Another thing that I would like to highlight about this charming day is the interior design, from Patricia Urquiola.
I felt in love with the huge woolen carpet, made with special colors and graphic treatment that encourages you to jump on it, so wonderful!
In addition, the amazing bathrooms, with gold and black as the main colors, were appealing to be a classic hotel, a perfume boutique or the treasure cave of children's dreams. I really loved it!!
The architecture
Natural light is a very good decision. The day was kind of grey, but this is a risk you should count on when dealing with natural light; maybe some point of support would have brightened the atmosphere a little more.
Talking about the general architecture, the entrance and exit of this hotel are curious. As many other things, you can understand and love it when you experience it. Yesterday I had the impression that it welcomes you and say goodbye in a very coherent way, related on what you have experienced inside; with warm, elegance and originality.
I will sure come back!
Will I be lucky to find a new menu that allows me to deepen on this gastronomy?
Nuria Canal